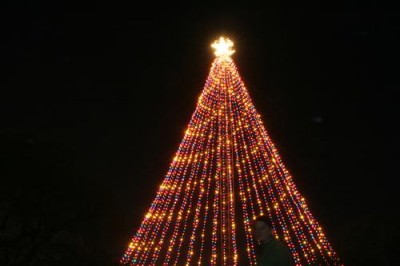 As is our new Texas holiday tradition we headed down to Zilker Park for the lighting of the "tree".  We first enjoyed the enormous yule log fire and then counted down as they turned on the lights.  Once the crowd thinned down underneath the tree we headed inside to do some spinning.  The photos look a little blurry because of all the people walking and spinning, kicking up the dry Texas earth.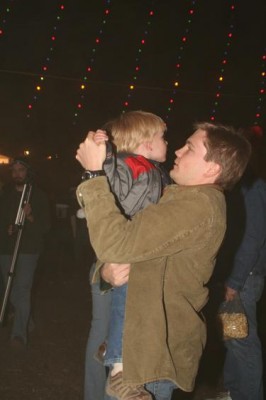 I started with Wesley in my arms and spun him around and around as he stared up at the lights.  After just a few rotations we met Steve Albert, KVUE reporter, and his cameraman, Woody.  They asked if we'd like to be filmed and we said sure.  By the time they had gotten all set up and had me mic'd up I was spinning Jillian around and Amber was getting Wesley dizzy.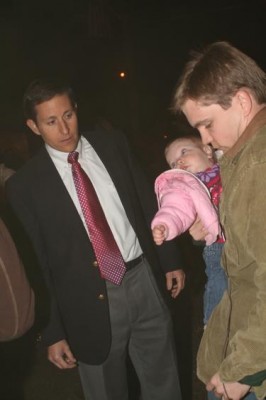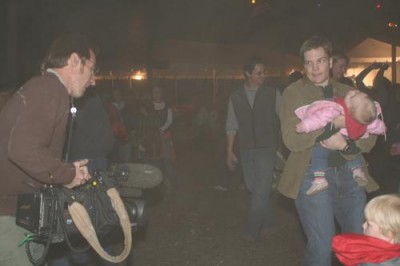 Jillian loved the spinning even more than Wesley.  She would get this mellowed out zombie look and go limp.  When I stopped she would sit up looking all dizzy and then ask for more.  As I say so eloquently in the video I don't think she would ever have stopped on her own accord.  And I must admit it is rather dazzling looking up at the lights.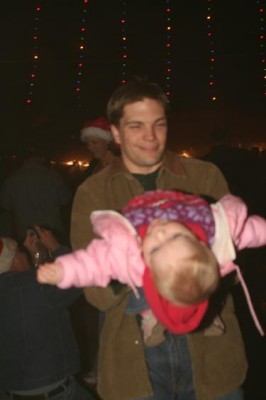 They filmed us for a while, asked me a few questions (and to my defense I was rather dizzy and not thinking straight), and then told us it would be on at 10.  We went home, eventually got the kids tucked in and sure enough the Zilker Tree Lighting was their top story.  I managed, with some effort, to get a copy of the video off their website.  Feel free to skip ahead to about 1min 25sec.
And yes a few people at work actually saw us on the news.  I was in the elevator with Jack today and he said "Hey I saw you on the news!"