Down here in Texas we have various multicolored Santa programs.  They are basically holiday toy drives conducted by various groups (Blue Santa=Austin PD/FD, Brown Santa=Travis county Sheriff and FD, there are others as well).  I'm not sure if this is unique to central Texas, but it may well be.  I'd never heard of it before we moved.  Here is a recent article in the Statesmen about their current troubles with donations.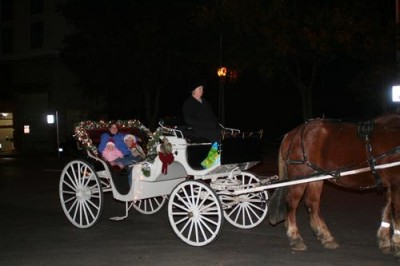 This year the Blue Santa program was giving horse-drawn carriage rides (a year round staple in downtown Austin) in exchange for toy donations.  I read about it in the paper and thought it sounded fun.  We arrived shortly after it started expecting there would be a line.  Typically a ride for 4 people would be about $60 per half hour so it was really a pretty good deal.  But when we arrived at the downtown fire station we had a carriage waiting for us.  Maybe the cold weather had kept the people away.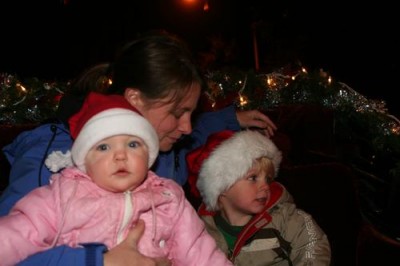 It was a pretty chilly night and we bundled the kids up.  Earlier in the day Amber had taken Jillian and Wesley shopping and had tried to give Wesley a Santa hat to wear for the ride.  But he refused saying something along the lines of "No.  Santa will give me a Santa hat."  So magically a gift bag complete with Santa hat was waiting for us on the sidewalk when Wesley got out of the car downtown.  It is amazing how easily they believe.  He was sure it was from Santa, wore it proudly, and never had a single doubt.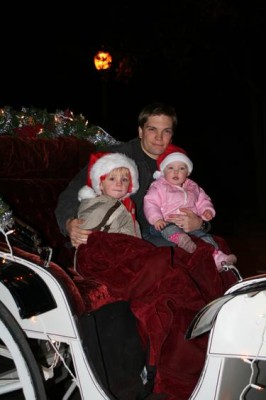 We toured around downtown hitting the highlights including Sixth Street, Congress Ave, and the Driskill hotel.  We were pulled ably by a Red Belgian Draft horse named Clay.  He was friendly and let Wesley give him a few pets on the head at the end of our ride.  Jillian spent most of the ride yelling "Neigh!" and trying to jump from the carriage.  It was rather cozy the four of us cuddled together underneath a red velvet blanket.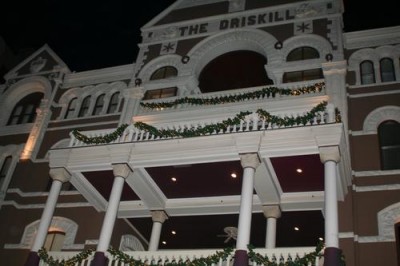 Afterwords we drove up Congress to see the Capital tree and then headed home.  The strings of lights in the picture, which look all white are actually new LED lights the city is rather proud of.  They've been touting their energy efficiency for a few weeks now. And in truth they are very neat. They change color, play patterns and in general look nice when viewed down Congress Ave.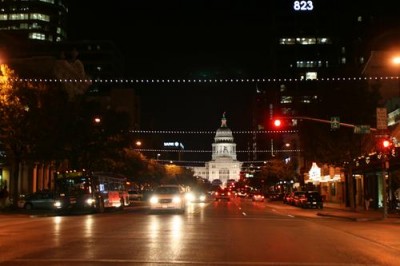 Tags: Austin, Blue Santa, Carriage Ride, texas