We spent our kid free day on Saturday hiking.  We went to Boulder River Trail near Darrington, WA.  We would have never attempted this 8.5 mile hike with the kiddos.  It has been over a year since Joshua and I have hiked alone.  It was so nice to get out on the beautiful northwest trails again.
Redmond was enjoying every single smell along the way!
About 1.25 miles up the trail is where the beautiful twin waterfalls are located.
The next 3.5 miles of the trail lead to a campground.  Along the way we saw so many huge banana slugs, a few garter snakes, a mouse, a chipmunk and a few birds.
Not only do you have amazing trees, plants and rocks to look at – since the trail follows the river you get to see it often, but you hear it almost the whole time you are hiking.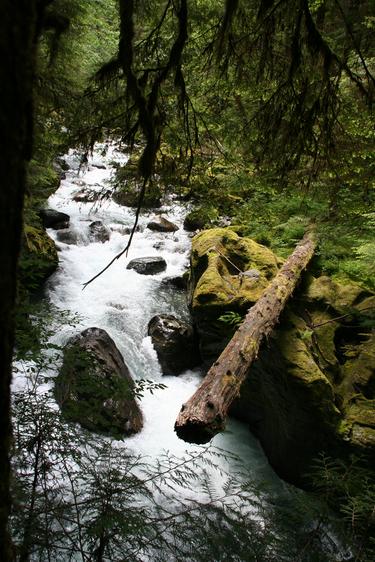 I am a slow hiker…I did not make it to the end.  We had to get to Adrianne's birthday party.  So at the 2 hour mark, even though I knew I was almost at the end, I turned around.  I took the backpack and the camera and started the hike back to the car.  Joshua wanted to get the end (and I wanted him to also) so he and Redmond would run ahead for 10 minutes and hopefully the would get to the end.  They did.  They only had to run for 4 minutes.   They got to the campsite area and then ran back to catch up with me. Our hike back went well.  It always seems faster when you are going back.
I have to include these pictures of Redmond.  Good thing he was on leash the whole time.  He would find a smell and just want to GO to find it.