A few years ago for Christmas, Amber got a special NordicWare pan just for making gingerbread house pieces. And for the last few years we've been buying our gingerbread kits at Costco and Trader Joes. Why? Because making them at home with the pan was just too much work. But this year, something snapped inside my brain and I made the decision to make the houses from scratch.
More than being really difficult, the trouble with going homemade is just how long it takes. First we made the dough. This was fun and Jillian was a big help. But then you have to bake the shapes three times for each house. The roof and long side get baked twice and the other side of the pan, the small sides and chimney, get baked just once. But you can't bake them back-to-back because the pan is hot. You have to wait for it to cool and that takes hours. So, for each house it took me three days. I'd make the dough and then bake each side a night. Then repeat the process for the second house. I wanted my own house, but I was too lazy to make any more.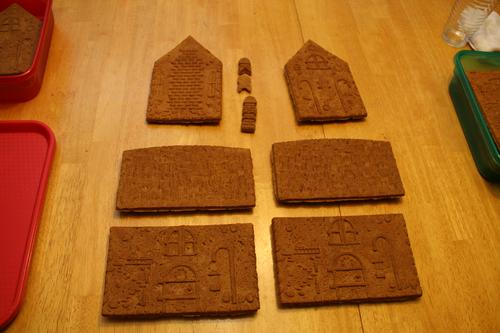 Once all of the pieces were baked I took another day to assemble the houses so they could dry and be sturdy enough for the kids to work with. We used a pretty standard royal icing recipe and it gave us structurally sound little houses.
Finally, a week later, we were ready to decorate these little guys. Amber bought a ton of candy and there was plenty to go around. Interestingly, even though we divvied everything up 50/50 some strange things happened. Some of Wesley's candy bowls were empty even though hardly any of them were on the house. Where did they go?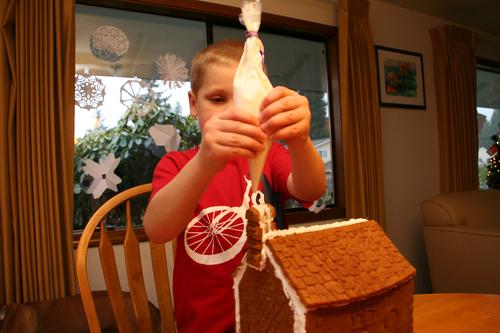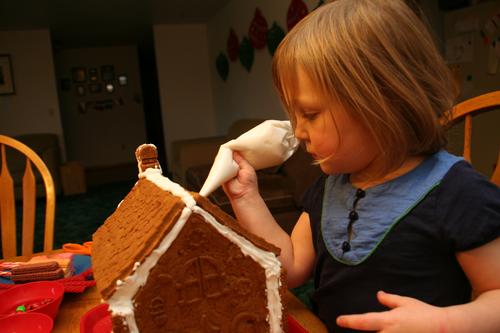 To start with we let the kids go there own way. Once they had made good progress Amber and I each started adding little touches and giving the kids some more complicated ideas. They each came up with great ideas of their own and copied from each other when they saw something they liked.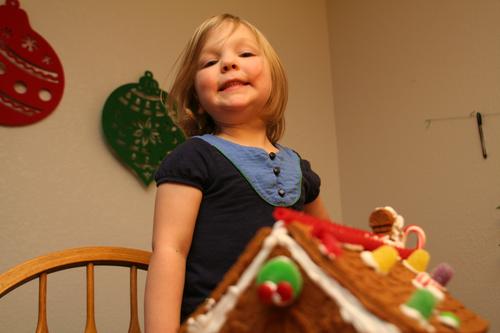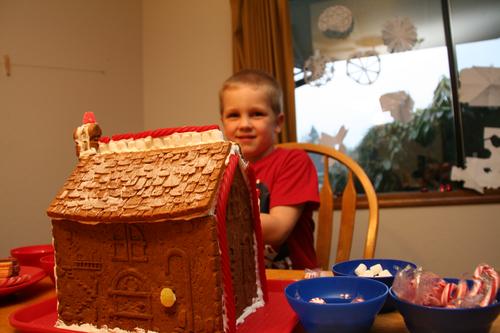 They had fun. Here they are with the finished product. The houses had to be moved to the mantle almost immediately since pieces of candy were being removed even before the frosting was dry.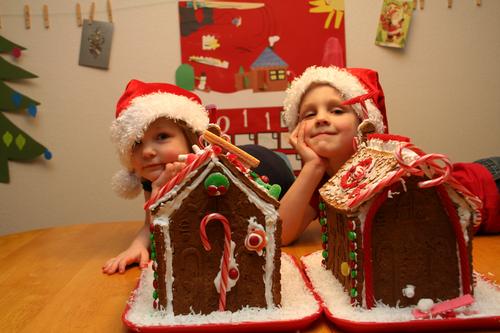 Tags: Amber, Christmas, Gingerbread, Jillian, Joshua, Wesley