Today we took the kids hiking through Lund's Gulch which is encompassed in Meadowdale Beach Park. The park entrance is only about a half mile from our house and the kids and I have actually been running alongside the park for a few weeks.
The hike is on a wide gravel trail that leads down from the rather busy parking lot to a small playfield/picnic area and usually beach access. You drop about 400 feet over 1.25 miles as you descend into the gulch. Most of the trail is pretty moderate with a few steep sections, some of which have stairs. The kids managed to walk the whole way down, but rode pretty much the whole way up. Luckily they were fully rested when we got to the top (more than I can say for Amber and I) so they found the energy to swing and climb on the play structure.
The trail is shaded most of the way and follows, more or less, the path of the creek. This time of year there are lots of different plants growing along the trail. We had to have a talk about stinging nettles. I'm sure it won't be our last.
Almost at the bottom, Jillian decides she will go no more.
At the bottom, just past the ranger's residence, we took a little break at one of several picnic tables and ate some granola bars and cooled off with some water. Jillian picked flowers and Wesley and I played Frisbee.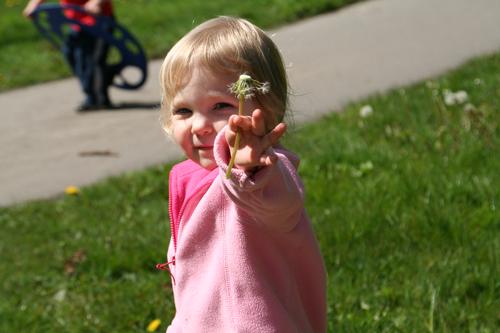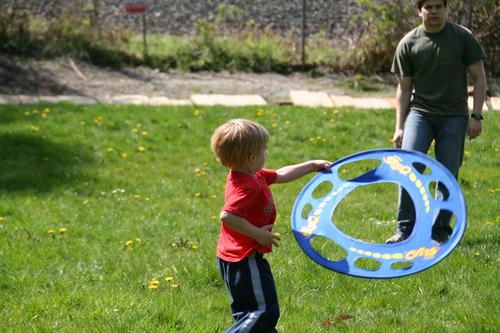 Even though the beach access is currently closed it didn't stop a lot of people from climbing under, over or around the fence and heading down there anyway. We decided not to since it was closed to protect the salmon in the stream. What amazed me most is the number of people who got to the bottom and seemed surprised that it was closed. This despite the fact that it has been closed for months and the dozen or so signs at the trail head. It should open in June as they are able to dredge some of the creek without hurting the salmon. Upstream development has caused it to silt up to the point that they had to remove the trail under the train tracks that leads to the beach.
On the way back up the trail Jillian rode in the Ergo on Amber's back. I carried the backpack and Wesley on my shoulders. We still passed a bunch of people, but boy was I sweaty. The kids were well rested and enjoyed swinging and climbing on this cool toy.