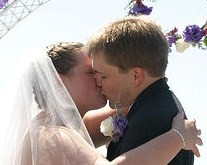 Five years ago on a beach in Anacortes Amber and I were married.  It was a simple wedding, and fast (I liked that).  We had some pretty good barbecue for dinner and it was all close friends and family.  Since then life has changed at an exponential rate.  Kids, jobs, school, cross-country moves all much different than they were 5 short years ago.
We were together for a little over 6 years before we finally got married.  And I must admit that we both feel a little bit short changed when people ask how long we were married.  When really we've been together for 11 great years.  To celebrate our wedding anniversary (not to be confused with to us a more important date anniversary) we went out on a date last night.  Many thanks to Becca and Mat for watching the kids.
We started our date at Mann's Smokehouse BBQ in North Austin.  This is the kind of place that people either love or despise.  Its kind of a dump and was clearly at one point a KFC restaurant.  I really liked it.  They had a whole range of sodas (this is important to me).  We each had one we'd never tried before.  Amber had a Cott Cola and I had a Frostie's Rootbeer.  The food was pretty cheap (we dined for less than $20).  We got the specials, mine was pulled pork and Amber went with beef brisket.  We each got two sides, plus cornbread and homemade ice cream.  The meat was delicious, the fried onion rings were great.  The potato salad was like mashed potatoes with mustard and relish added.  Stick with the rings.
Maybe the best part about this place are the employees.  The food is good, sure, but the employees were so nice.  They put a real emphasis on regulars.  Once you've been there a few times they are likely to slip you a bit more BBQ or give you a free brownie.  They were very nice to us even though it was obviously our first time.
After dinner (I was stuffed) we headed to Austin's Park.  This place has go-karts, put-put golf, lazer tag, video games, a rock climbing wall and a few other activities.  Most of the stuff is included with the price of admission, but a few things are extra (batting cages, pool tables).  We only did a few things because of time constraints, but still had a good time.  We started with put-put, but stopped after 9 holes. The courses weren't very interesting, no windmills or moving traps to avoid.
Then we raced in the go-karts.  This was fun, but really loud.  I think it was worth the wait, but I'm glad the line wasn't any longer.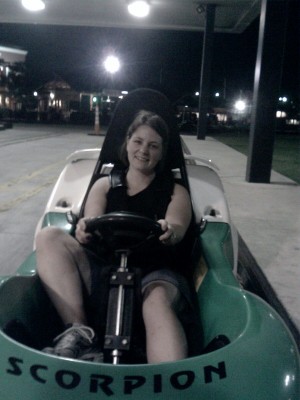 After the race we each climbed the outdoor rockwall (there is an indoor one as well).  Then played a few video games and headed home exhausted.